Tulips
Tulips
Few places can match the beauty of Holland, Michigan in the spring when millions of tulips burst forth with amazing color in public parks, local attractions and lining the streets.
See details below of locations to visit to see the amazing blooms this spring!
The City of Holland manages all the tulip plantings in parks, along city streets and in the downtown area. Here is a list of locations around Holland where tulips are planted.

Click here to see the LIVE Tulip Tracker camera provided by the City of Holland

CENTENNIAL PARK
239 S. River Ave. |  48.000+ tulips
This Victorian-style park has a traditional Dutch fountain, winding pathways and gazebo encircled with brightly colored tulips.


DOWNTOWN HOLLAND
Shopping district  |  38,000+ tulips
You'll find beautiful tulip plantings in beds and planters along the streets of Downtown Holland among the restaurants and shops.


WINDOW ON THE WATERFRONT PARK
110 Columbia Ave.  |  100,000+ tulips
Featuring walking paths through tulip fields and beds, photo stands, life-size statues in traditional Dutch dress, scenic overlooks and beautiful open spaces, this 30-acre park is a "must see!"


TULIP LANES
Curbside  |  250,000+ tulips
Six miles of curbside plantings wind through Holland's neighborhoods, including the historic district. The most picturesque portion features flowering Kwanzan cherry, crab and plumb trees along Washington Ave. and 12th St. boulevards.


WINDMILL ISLAND GARDENS
1 Lincoln Ave.  |  140,000+ tulips
Home of "DeZwaan" a centuries old windmill, this beautiful park has formal gardens and growing fields.
This attraction has specific entrance fees, hours of operation and visitor guidelines. Get details at https://www.holland.org/visit-windmill-island-gardens


NELIS' DUTCH VILLAGE
12350 James St.  |  30,000+ tulips
Bright flowerbeds highlight this re-creation of an 1800's Dutch village.
This attraction has specific entrance fees, hours of operation and visitor guidelines. Get details at https://www.dutchvillage.com/


VELDHEERS TULIP FARM + DEKLOMP WOODEN SHOE & DELFT FACTORY
12775 Quincy St.  |  4 million+ tulips
This 40-acre farm has been family-owned for 80 years, boasting millions of tulips in fields and decorative beds.
This attraction has specific entrance fees, hours of operation and visitor guidelines. Get details at http://veldheer.com/


DOWNLOAD THE 2022 TULIP LOCATIONS MAP - click the image below for the PDF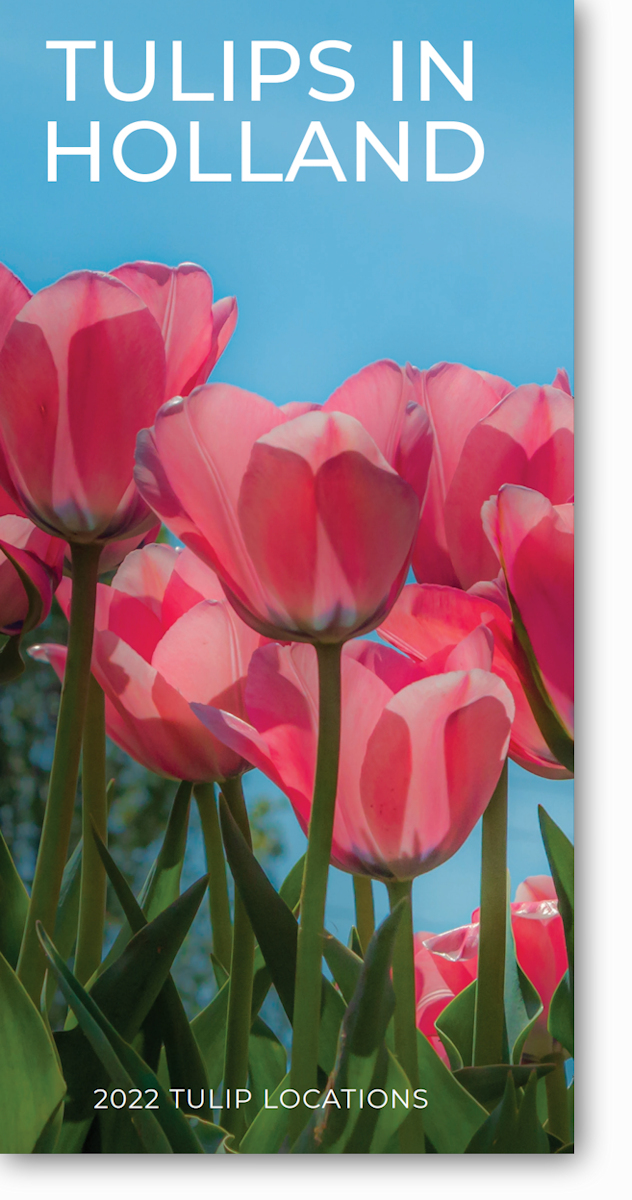 WHERE TO BUY BULBS WHILE YOU'RE HERE
Keep in mind, bulbs are not available in the spring but they can be ordered at the following locations for fall delivery.
Nelis' Dutch Village
Veldheer Tulip Garden
Windmill Island Gardens
Check out how the City of Holland plants 55,000 tulips at Windmill Island